Please let us know about yourself. What you are doing? Where you have been? What plans you have for the future? (After you're grown up!) Type them up in some kind of text file, or simply an email and send them in. Our goal is to hear from everyone.please send an email.



Click on a name to read a bio!





Becky Black (Underhill)
Dear Class of "69", I married Dave Underhill in 1985 and we settled down in Newark at that time. When I married Dave, I became an instant mom to three young boys – Jason, Bryan, and Brett. Jason is now married with 2 children, a girl and a boy. They are living in the Athens area, New Marshfield to be exact. Bryan is single with a son and lives in Newark. Brett is married and has a daughter and they also live in Newark. I feel very lucky to have three great stepsons and I couldn't ask for better daughters-in-law. The "icing on the cake" is the grandkids. They are so much fun. We love being with them. Dave has been in business for himself for 20 years now. The name of his company is Window Craft Co. He sells and installs custom window treatments (draperies, shutters, and blinds). He works all over the central Ohio area. I work for the Newark City Schools System in the Treasurer's Office and have been there for 18 years. And no – I don't get the summers off. I am a 12 month employee. I work in the Accounting part of the office where I am responsible for all of the credit cards for the district, pay the schools bills and utilities, a never ending job. I also usher for the newly remodeled Midland Theatre. Remember the Midland? This gives me a chance to see a lot of different people plus the many shows and acts that have played there. Dave and I love to camp and we have a permanent site on the Kokosing River just east of Mt. Vernon. We have a lot of fun there relaxing, fishing, and just being with the grandkids. We have met some of the nicest people while camping. Everyone is so laid back and never in a hurry. When we are not on the river, we can usually be found at home, caring for our yard or enjoying our Friday nights out with our friends at the local restaurants. So if you happen to see us – please stop and say hello. I had a fantastic time this year at the reunion and enjoyed seeing everyone again. Boy – how the years fly by. Thanks to the committee for a great reunion. Becky Black Underhill

Back to top

Cheryl Burchard   Well!!!!!!!!  You won't believe the mess I've made of my life so won't go into to many details.  I do have one son, by my first husband, It (marriage, if that's what you call it) lasted one year. Son age 32, Mike Osborn, not much to tell about him.  He is a very troubled man.  We'll let it go at that, But I love him,  was born Aug 24 guess he thought that was the thing to do too. I have a granddaughter Hannah age 2 on Aug 22 and one grandson Joey age 10 on Aug 26   Then I waited 4 years and married Mike Miner,  traveled around a bit, Germany, Switzerland.  Kansas, Nebraska, Lived in Fairborn, OH.  I think the only reunion I was at was when we came home on leave from Germany.  Couldn't tell what year but I know it was before the divorce in 1981. I FINALLY GOT IT RIGHT and my third and LAST husband (Richard Hickman better known as Tricky Dick by all his friends).  He is a construction man by trade.  He is still building decks.  He lost a leg in 2000, but it didn't stop him.  He is currently working at Cherry Valley Lodge in the laundry to keep him busy.  We have been together 18 years.  I only wish we had met 33 years ago.  He has 8 children and I don't even know how many great grandchildren and grandchildren.  They don't all keep in contact.  We keep in contact with one daughter in Newark which she is married  Mona & William Chambers and has 3 children which one son Cpl. Andrew Chambers is in the army and is in Fallugiah right now. Need all the prayers we can get for him and the rest of our soldiers.  One son Joshua, still at home and one daughter Candice getting ready to get married in May.  His son his Tim Hickman (not the police officer of Newark) is married to Meagan (Rittenhouse).  They are currently expecting a girl in AUG. also.  They were married on Aug 3 2003.  Tim has a daughter by a previous lady.  Skyler just turned 2 April 19.   I had many jobs over the years from the boring First National Bank to tending bar at different private clubs. Which I liked the bar tending best of all the ones I ever had.  Then my health started failing. Had to change careers so went to college at C.O.T. C. Graduated in 1999.  See it is never to late to go to college.  Received Associates Degree in Secretarial Science with the Medical option.  Just cause I went to college don't hold my grammar and punctuation  against me. LOL  I tried the medical field and it is more stress than I wanted.  Volunteered at the Crisis Center for a while. Till my last suicide call and couldn't handle it.  I am Currently working for a wonderful company in Millersport, National Safe & Security.  If you need a security system for your home or business just give us a holler. 740 467 2443, just a little advertising if I may. Well I guess I lied.  I told more than I thought I would. Sorry if it bored you. I have had to live with the boredom, guess you could read it for 5 minutes instead of living it.  LOL Life is Not bad once I figured it out.  One of my co-workers says I should write a book of my Peyton Place life.  Believe me it hasn't been boring.  Hope to see you all soon or write if you get a chance. Please put Granville High in Subject line, because if I don't know who it is coming from I won't open it. pepper277@adelphia.net       Take care & Have A Wonderful Forever.

Back to top

Steve Comisford 1969 Attended OSU Newark...withdrew temporarily (Who was I kidding? Not Homer) While working at Licking Memorial Hospital I allowed my college deferral to lapse.
1970 Received induction notice to be drafted into U.S. Army, signed by selective service board member, Homer P. Comisford (father). Due to high school football knee injury, I was classified fit for induction/not fit for enlistment. Homer pulled Congressman John Ashbrook strings! Enlisted in U.S. Navy, served 4 years 3 months active duty, honorably discharged as Radioman Second Class Petty Officer. Fulfilled 2 year inactive U.S.N. Reserve commitment at same rate/rank.
1971 Married Carol Sue Williamson
1975 Secured gainful employment at Newark Air Force Station/Base (NAFB) in the missile/maintenance side of the house as a harness fabricator, instrument worker, and common/peculiar test equipment mechanic. Enlisted in U.S. Air Force Reserves, served 2 years as measurement equipment mechanic, honorably discharged as Staff Sergeant. First child (Heather Lea) was born. Heather graduated from Heath High School and went on to earn a bachelors degree from the University of Toledo majoring in Psychology. Heather married Jay Morrow of Heath, Ohio and gave birth to our first grand child (Austin Ryan) in November of 2000. She is currently employed by The Cherry Valley Lodge.
1981 Second child (Ryan Steven) was born. Ryan graduated from Heath High School and is currently enrolled at the University of Toledo majoring in Bio-Engineering. Ryan has completed co-ops with Pfizer Pharmaceutical, The National Institute of Health and Cleveland Clinic. He was recently named to the Presidents List and is due to graduate in May of 2004. Transferred/promoted to the Air Force Metrology Calibration Program in the Air Force Primary Standards Laboratory (AFPSL) at NAFB. Worked as a Quality Assurance Specialist and Electronic Technician in RF/Microwave and Photonics/Nucleonics Laser Laboratories. Also worked as a Quality Assurance Specialist/ line item manager in Foreign Military Sales.
1996 Retired from civilian government service as result of NAFB closure. Retained position in the privatized AFPSL as a Laser Engineering Technician, working for a government contractor (Wyle Laboratories at NAFB location. Divorced after nearly 26 years of marriage.
1998 Remarried...Wife: Jacqueline Kay (Gayheart) 1980 Heath High School graduate. Jackie has been employed by Ralph Maltby's Golf Works for over 21 years. Step-Daughters: Nicole Marie Hurles and Erica Lynn Hurles. Nicole is a 1997 graduate of Heath High School and recently earned her bachelors degree in Early Childhood Education from Ohio University/Lancaster. She is currently employed as a teacher at Ben Franklin Elementary School in Newark, Ohio. Erica is a 2001 graduate of Heath High School, has attended OSU Newark and is currently employed by Montessori School in Newark, Ohio.
2002 AFPSL government contract awarded to Bionetics Corporation. Retained same position in same department.

Back to top
2003 Thirty years ago, my final naval assignment rotated me to an isolated duty station on the island of Crete. Crete is southeast of the mainland of Greece in the Mediterranean Sea. Sixteen months later my enlistment ended, as did the carefree liberty days of what seemed to be endless sunshine and snorkeling. The Atlantis of the Aegean Sea was a far cry from the image that had manifested the first time I heard, "isolated duty station". It had been a lifelong dream to return. Though many years had passed, I still held out hope that I would once again have the opportunity to see and thank a special Cretan family who had embraced me like their own. To celebrate our fifth wedding anniversary, Jackie and I made arrangements to visit the same area where I had been stationed. Our travel window allowed for very little flexibility and all travel/accommodation details were coordinated via e-mail with persons we discovered on the internet. Upon arrival in Crete our host (Antonios Pavlakis) met us at the airport. In his native tongue (NOT), Antonio asked what we would like to do during our visit. I told him of my past and our desire to locate a family with the name Koronaki. He appeared somewhat uncomfortable and said, "Tell me more." (he later confided that he was uncomfortable because he was fearful that I might be trying to locate a former girl friend...despite the fact that my wife was sitting in the back seat). As we drove from the airport to our studio/apartment in Kato Stalos (about 8 miles west of Chania) I related names of family members and approximate ages, all the while I was faced with the reality of the changing times and unfamiliar surroundings. Not surprisingly, the city of Chania Crete had grown from a simple backwards community to approximately 80,000 people. Suddenly, Antonio's expression became rather eccentric. He broke out his backwards community cell phone (I don't even have a cell phone) and stated that he might know someone in that family very well. We didn't know Antonios from Adam, yet incredibly, in less than fifteen minutes from our arrival in Crete I was talking to the eldest son in the family we sought. As fate would have it, Yianni Koronaki?s family (including those living in Athens) were in Chania to attend the baptism of a new addition to their family. That moment marked the beginning of an unforgettable reunion/vacation, including excursions to the still beautiful beaches, mountains and a baptismal dinner/celebration in the truest tradition of the Greek people.
Back to top


Mary Erhard (Hauck) Bob and I are still in Granville, and I have to say, continue to love being here. When we travel, I always compare places to the village and there aren't many that have the quality of life that's offered here. I think we can all be proud of our heritage as Granville alums! After graduating from Denison several years back, I decideed to be a stay-at-home mom for as long as I was able, and held a few part-time job positions along the way. Mostly, I just did the "mom" thing, and loved (nearly) every minute of it. Today I work at Centenary United Methodist as the College Outreach Coordinator and enjoy it thoroughly. I was actually doing it on a volunteer basis until it actually became a staffed position. It's great to get paid for doing something you love and that you'd be doing anyway! An interesting factoid is that this year we hired a new youth pastor for the first time. When I heard his name, Kevin Koske, it rang a bell right away.he hails from San Diego and is Susie Forsythe's oldest kiddo! I also get to work with close friend Lynne Hartman, who is an administrative assistant, and in church see Jeff Hartman & Eric Stewart fairly often as well as Jan (Jones) Row. Bob works in Newark as an attorney for Morrow & Erhard, and is getting back into flying small planes, aided and abetted by another Granville alum, Jim Holt. My girls are now grown and the nest is empty. Elizabeth is married and living in Upper Arlington, and Anna is a sophomore at Miami. We have 2 cats, Beau and Bella, who have helped make things a little less lonely with the girls gone. Bob and I celebrate our 30th this spring.wow! Good thing I still really like him! It will be fun to see you all this summer. I'm looking forward to it! Mary H. Erhard Director, College Ministries Centenary United Methodist Granville, OH. 43023 740-587-3125 or 587-0022 "To look at Christ will save To gaze at Him will sanctify"

Back to top

Tricia Gay High Conover I'll really miss seeing everyone at the 35th reunion. We attended th 10th, 20th, and my sister, Lynn High Pratt's, 20th reunions. They were great! I especially liked the water balloon war between the classes of '69 and '70 during our float rides in the parades. Other memories of reunions: our 10th, when some of us actually rolled on the floor in our strapless dresses to the DJ's tune: "Rollin' on the River" - Mary, Karen remember?
I'm sorry we'll miss the 35th - we'll be on vacation in Victoria, Vancouver, B.C. I hope to make the next one. I graduated from Purdue University, married my husband Steve Conover in '73 - so that's 31 years. We immediately moved south to the Dallas, Texas area when Steve joined Frito-Lay at their corporate headquarters (and is still there). I am a Global Account Executive for PeopleSoft (no, Oracle did not succeed in their attempted hostile takeover last year). I have been in the software sales business for 20 years with Texas Instruments, Sybase, Manugistics and a brief VP of Sales position with a startup during the Tech bubble (and subsequent Tech Crash). I'm also serving my 5th year on the Board of Directors of MediSend/International - a non-profit medical charity. We have 2 sons who have both graduated from the Business School of University of Texas at Austin. Steven Jr. (a software engineer) is married to Anne-Sophie, a girl from Normandy, France (who's Dad was a child during the D-Day invasion). She'll be back in Normandy this year to tour our Texas governor for the 60th anniversary celebration of D-Day. They live in San Francisco. Andy is our youngest (24) and lives nearby in Dallas and is an Inventory Analyst for a distribution company. Thanks for putting up this great website!! If anyone gets to the Dallas area - give me a call! (cell listed below)

Best regards,
Tricia

Tricia Gay High Conover
McKinney, Texas
PeopleSoft Office: 972-725-3964
Cell: 972-523-1506
tconover@comcast.net
Back to top

Chris Innis After High School I attended Ohio University, dropped out, then worked at Owens Corning and Roper in Newark. A couple of years of factory work convinced me to return to school. I attended the Lancaster Branch of OU, I went back to the main campus and then left again two classes shy of graduation. I worked a couple of places in Granville and Newark and eventually was hired at the Athens County Welfare Department. After I got there I was a caseworker, later a fiscal officer and finally assistant director. During that time I also finished the last two classes I needed and graduated on the ten year plan. My son John is now a sophomore at Ohio University and anxious to leave town once he is finished. My wife Darleen and I live on a 68 acre farm outside of Athens. She works for Hocking College in Nelsonville.

Back to top


Janis Jones (Row)
Married Chuck Row in 1980 which was a second marriage for both of us. Before that I was a layout artist for a while and a professional singer for four years.  I attended OSU for two years in fine arts.  We have two boys, ages 20 and 16, Isaac and Christian.  Isaac is a junior at OSU after one year at OU Athens and one year at OSUN, and Christian is a junior at GHS. They have always been excellent students and are very talented;  Isaac is a guitarist and Christian is a banjo picker.  Both boys are currently working at Victorias Parlor in Granville as cooks.  Isaac is into creative writing and martial arts, and Christian plans to go to culinary school to become a chef.  He already knows more than his mom ever will on that subject!   I have worked at Diebold, Inc for 25+ years, first in Finance Cost Accounting (my math teachers would shudder at the thought of me and figures) and now as a materials analyst/buyer, managing various inventories of parts and units (ATMs) and sharing some supervisory duties over the refurbishment group, handling returned goods, purchasing and some other sundry things.  I live back out on Loudon Street (where I grew up) except in Chuck Row's farmhouse up the road from my old home.  We have a continual remodeling project going on there.  We don't raise beef cows anymore, but have three horses and a pony for pleasure.  My horse showing days were limited to high school and early 20's, but I bought some after the boys were born.  We have 5 dogs and 1 foster dog (who needs a good home), 11 cats (all "fixed") and a hedgehog.  We also have a pondful of fish but I haven't named them yet so they don't count as pets. We are members of Centenary UMC where I am part of the contemporary worship team (along with Lynne Hartman) so please come visit us at 9:30 Sunday mornings! I still enjoy art, horses, 4H, fishing, hunting for artifacts (arrowheads), leatherworking, jewelry making, music, gardening, reading, writing, and my Welsh geneaology. My dream is to visit Wales where I have cousins who have visited us many times.  Some of them are concert singers/pianist/harpist, so more than once I have arranged concerts for them in the Granville area, most recently at Swasey Chapel.  They have performed worldwide.   Chuck is a job foreman/supervisor for Robertson Construction and a partner with his brother in Workhorse Woodshop where they do remodeling, furniture making and other woodworking in their "spare" time.  We live on his family farm and raise hay and crops.  In the 80's-90's Chuck was farming full time and had an agriculture equipment business so we were privileged to visit Norway and later took the boys to Hawaii on business. Truthfully it feels as if I have lived at least three separate lives after all these years, but this is the nutshell version. Every reunion knocks our socks off and this will be the best of the best thanks to this committee! Jan Row
crow904@earthlink.net
rowj@diebold.com
3946 Loudon Street
740-587-1347
     Back to top


Janet Curtis (Mathias)
This is the 6th reunion committee I've been on with Randi, Bobbi, & Tim. Over the years we've added to the committee. At our age we can use all the "brain cells" we can find. I still live in Granville with the same husband. Don "Butch" Curtis GHS '67. We have 3 sons & 3 grandsons. Still waiting for a girl.(Granddaughter!!!) I still work at Granville Medical Center. (I guess I can't handle change) In the fall of 2002 I joined the Granville Volunteer Fire Department. I received my certification for EMT basic & fire fighting last Spring. Time to give back to the department & the community.

Back to top


Jane Randolph
I've been in California almost 10 years now - where does the time go?  Before settling here I lived in Chicago, St. Louis, Tucson, Dallas area, Dayton, OH, Cincinnati and halfway between Tampa and Orlando.   California feels most like home for me and at this stage of my life I don't want to move again until I find the perfect retirement spot.  Can you believe that now were are all starting to think about NOT working? Speaking of work, I'm still working for the Univerisity of California at the Lawrence Livermore National Laboratory and am now the team lead for the construction procurement group after working on the world's largest laser project for almost 8 years.  It remains to be seen how much longer UC will be running the Lab since our contract is due to be competed.  I did take up a second job on weekends to support the wine collecting habit I developed after moving here.   I work in the tasting room of the Tamas Estates/Steven Kent wineries (part of the Wente family). Livermore is home to 25 or so wineries - we are not Napa yet, but are beginning to develop as a destination spot.  It is so different from my regular job and fun - plus the wine discounts are the main attraction.   I must like it because I even named my dog Merlot. I'm looking forward to seeing everyone over the 4th and if anyone gets out this way give me a call.   Back to top


Randi Schneider (McLaughlin)
I have been married to the same guy for 32 yrs. (and we are both still alive to talk about it). My daughter graduated from Ohio State and is a teacher along with her husband...I became a grandma last May and she is due again in July. My son is an electrician and we are trying to convince him to pop the question to his girl. I worked at Elder Beerman Department Stores for 10 yrs and worked up to Assistant Store Mgr. I needed a life so I came to the Auditors Office for Licking Countywhere I am a Supervisor. I really love my job. Just think, I get to see Tim Hughes occasionally. I am still friends with Bobbi. We both had places at Buckeye Lake...anyone wanting to take a swim in Buckeye Lake...go on a jet ski with Bobbi. I would truly love to hear from some old friends. Anyone needing a bed let us know.

Back to top


Kathy Shellabarger After high school, I went to nurses' training and graduated in 1971 with an LVN degree. At that time I was married (my husband was in Viet Nam) and pregnant with my daughter Kelly. After working for a little while in the emergency room, I realized nursing was NOT for me. I should have listened to my typing teacher and gone to business school! Kelly was born in Oct., 1971; my husband returned from Viet Nam and we were transferred to Illinois for two years. He (Gregg) was then transferred to Travis AFB in California. We'd been married 11 years when I found myself single again (he found someone more interesting - if you can believe that!). So for two years it was just Kelly and me. During that time, I worked part time as a teacher's aide at the same school that Kelly attended. I worked some part time office jobs as well. One day on a blind date (!) I met "Gary". Long story short: we got married 1 1/2 years later! In 1991, Gary answered "the call" and we sold our house, quit our good jobs and moved to Colorado Springs where we attended Nazarene Bible College for 3 1/2 years! What an adventure! During that time, I worked at focus on the Family, had my tonsils out (YUCK!), and Gary had his first heart attack! After graduation we moved to Galt, CA and started a church. We were there two years and moved to Citrus Heights (suburb of Sacramento) where he was an associate pastor for about 1 1/2 years. Then, in Nov. of 1998 we went to Angels Camp, CA where Gary was Sr. pastor of a small, loving Nazarene church. (I loved being a pastor's wife!) I worked in the next town for the county in the Social Services dept. Gary also worked a secular job at a nuclear power plant (Rancho Seco). We always thought we'd just retire in that beautiful area. During this time I had 2 surgeries for thyroid cancer. (I've been cancer-free for almost four years!) March 2, 2002, while at the power plant, Gary had another heart attack and died almost immediately. By July 17th, I was on my way to moving to Florida where all my family now live. Before moving, I was helped a lot by a close friend of Gary's (Ed - a crane operator). During my time in Florida, Ed and I kept in contact (a lot!). You know the rest of this story!
Believe it or not, I moved BACK to CA Nov., 2002 after getting married to Ed when he flew to Florida! I'm sure I raised a LOT of eyebrows (I was used to that!) My family just loves Ed though. I now have FIVE new stepkids!! Two are on their own. The others are 6, 11, & 14. We all get along really well. ALSO, Kelly (a first grade teacher now) and her husband are finally expecting their first child in November! For the first time in nearly 30 years I'm a "stay-at-home" mom again! The kids are glad I love to cook and do fun stuff with them! I admit, I DO miss being out in the work force sometimes. (I never thought I'd say that!) One of my favorite things to do is when Ed and I get to go to Pismo Beach and ride our ATV's and dune buggy! We haul our 5th wheel down there and love every minute of it! One of these days I would STILL love to parachute out of a plane! Well, this has been my life for the last 35 years!
Back to top

Eric Stewart After attending Granville schools through tenth grade,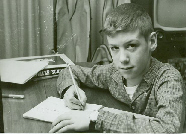 I graduated in absentia (for some reason my diploma says Bellefontaine High School on it). My home for the next 4 years was Ohio Wesleyan University. (My actual home at OWU was torn down within2 years after I left it - not that there was anything shabby about it...)A Civil Service test led me next to a job with the Licking County Welfare Department (now called Job and Family Services). Said job has been standing in the place of a career ever since. I enjoyed a non-focused, carefree lifestyle for 10 years after college, but all that came crashing down around my ears when, in 1983, I took on a wife, a step-daughter (Anne), a baby and a house payment.Instant responsibility. One baby (Matt) led to the next (Andrew), which led to t-ball and soccer and Meet The Teacher Night. Before I knew it I was flirting with respectability.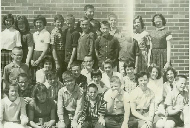 I served for a while as Chair of the Granville Board of Zoning and Building Appeals and also the church Missions Committee. Once I finally realized I don't like meetings (it only took about 8 years) I resigned from both and am moving back toward a slothful, hedonistic lifestyle as Andrew approaches graduation from high school in June/05.
Back to top
Tim Stone


Hi, all! Thanks for stopping in.

I REALLY DISLIKE the fact that I missed seeing you all at the 2004 "GHS Class of '69 Reunion"!

But since you are here, I'll catch you up a bit, about what has happened over the last years.

Out of High School, I joined the Navy, attached to a Marines unit, as a Medical Corps guy. I spent my time in Spain (never spending time aboard ship.) It was a most fantastic period of my life (1970-72). I learned Spanish & did a lot of fun (and some serious) things. It was a time of immense freedom, discovery, and adventure.

I returned, began college in the pre-med program at OSU. I met my wife (Virginia Kohn), & decided I couldn't be good husband and a committed M.D., so I quit school after 3 years.

We had (and have) 2 daughters, Amy, now 23, and Christine, (now Mrs. Mark Dunn, 20, and with my 2 grandchildren, Cyrus, 1 & Aubrey, 3). These two girls are very special, and have done a lot to enrich my life. The little ones (Grandchildren) are special, but I don't see them nearly enough. Aubrey has gotten to stay with me a little. We have a lot of fun. Little Cyrus's little personality is taking shape, by the day.

In early married life, I worked as a construction/small builder with Jerry McClain Co., then, independently, for several years. In 1979, I opened up a little tool repair shop in our rural home, for something to do if things "got slow". The tool business took off, at once. It grew into "Stone Machinery Co.", to where I had to hire people, began carrying woodworking machines, and on & on. 25 years later, I'm still doing it.

My marriage lasted through our 25th wedding anniversary (1999). (We never got close again after the honeymoon.) We lived in Newark, Ohio for most of our 25 years. We (Virginia and I) continue to care about our daughters and grandchildren, and get along pretty well, dealing with things pertaining to family, as they arise. She has remarried (Virginia & David Hallenbeck). They live where I used to (Thornwood Dr., Newark, on the edge of Newark and Granville Twp., off River Rd.)

In 1999, I moved to Kidron, Ohio (4 miles south of SR 30, midway between Wooster and Canton/Massillon), and in 2001, set up an office and showroom there. In Dec. 2002, we closed the facility on Union St., in Newark, OH, where we had done business for nearly 20 years.

Our office and showroom are now located at the main (only?) intersection of Kidron, Ohio, (4812 Kidron Rd., PO Box 303, Kidron, OH 44636) across (diagonally) from the famous Lehman's Hardware. This is the heart of the largest Amish community anywhere. Our customers are great. Business is doing well. We are only a staff, now, of 3-1/4 people (down from 13, in 1992) (That's a good thing!). We sell woodworking machinery to people all over, where 85% of our business is to Amish & Mennonite, and about 1/2 of it is done outside of Ohio, over 13 states.

For me, now, I am "homesteading" in the middle of a 10 acre piece of farm pastureland, broken off of a larger farm, 3.7 miles NE of Kidron, OH. I bought it last fall (2003). I let the farmer, from whom I purchased the land, continue to graze his 50-60 beef cows on my land. As "the lawn crew", they happily go to work every day; up with the birds, to keep the grounds trim. (I have a perimeter of fence around my home, to keep from the hazard of slipping in something messy.)

I am blessed with health, a pretty even temperament, a good measure of grace for my fellow man and woman, am able to provide for myself, am industrious, very passionate about life, and more. I now share the homestead with a little kitty ("Squeaker"), I adopted 5 weeks ago, when she came around, looking hungry and homeless, and cute (about 5 weeks old, at the time). (She's cute & independent enough now, and offers the benefit of making it look a little less like I'm talking to myself, in case anyone is watching.) She's playful and full of energy, and cracks me up sometimes.

In the past 5 years, I have made a number of friends in the Canton, Ohio area, from when I lived there for 1 ½ years, but that is 30 miles away. The country place where I live now is beautiful, with a hint of mild, wild, quiet, peaceful, and full of beckoning and promise. I love it here, but being really honest, I am not enjoying doing it alone. I long to share it with a very special lady. (I don't know who that lady will be, yet.)

In the years that have passed since high school, I have traveled a fair amount; Europe for several months, Taiwan, Puerto Rico, Mexico, Canada, done mission work in a couple of Hispanic countries. I enjoy woodworking, relationships/people, outdoors things, like hiking, camping, gardening, being an husbandman/caretaker to the land, enjoying the wildlife, doing a little bit of "green" living, with a little alternative energy, and other ideas of sustainable lifestyle. I tend not to be materialistic, but do appreciate good quality things, when you gotta have 'em.

I motorcycle a little, volunteer at a local church campground, work on making this place home, and occasionally see family or friends. God is an important part of my life, expressed mostly in just a way of doing life, with the guidance of values.

If you are ever anywhere near the area, I would love to see you. I have already had a couple of visits from Granville/Newark friends, but never to my home. If I can know in advance, we may be able to sneak lunch or dinner, to snicker a bit about our times with Mrs. James, "Fuzzy", Mr. Miller, Miss Antle, Mrs. Morehead, Mr. Weiser, Mrs. Alexander, Mr. Pence, Mr. Van Winkle, Mr. Adams, study hall, science class, Mr. Hill, Mrs. Moore, Mrs. Berger, Mr. Durst, Mr's Todd, and so many others. If your available time allows, I invite you to my home. (P.S. I have never outgrown "sleep-overs".)

If you have ANY inclination to visit or otherwise communicate with me, please push aside the barriers, and do it. Regardless of the details, it should be worth it.

Current address:

Tim Stone
5281 Goudy Rd
Dalton, OH 44636-9235


Ph: (330) 857-0270
Cell: (330) 704-8380
W: (330) 857-0224
Email: para2@nls.net


Until then, I trust that all is well for those who visit this site.  I pray that God bless you, and that He be real to you in your life.

Tim Stone

Back to top



Joyce Pierce (Walpole) I'm here in Salt Lake City I'm Joyce A. Walpole [Pierce] I have my own home and I work for a company that makes heart catheters for Doctors all over the world. I have been with the company for fifteen years. Stacy, my daughter, lives in Kentucky with her daughter and husband. My address is 5248 Camino Real Dr. Salt Lake City UT. 84117. My home phone number is 801-261-7448. My cell is 801-633-5240. Sometimes I sing Karaoke at night. Sometimes I work two jobs to keep busy. My parents have passed away, but my brother Phill S.Walpole. still lives in Granville. I hope to keep in touch or have you to keep me informed about our class. I miss seeing all of you. Write when can, or call, have a nice time this year, and stay well. PS. Don't get any older. JOYCE
Back to top